Research Databases
Literature Criticism Online
The largest curated online collection of literary criticism in the world, this resource brings together 10 acclaimed multidisciplinary series representing a range of modern and historical views on authors and their works across regions, eras and genres.
Opposing Viewpoints In Context
A premier online resource covering today's hottest social issues, from Offshore Drilling to Climate Change, Health Care to Immigration. Opposing Viewpoints in Context helps students research, analyze and organize a broad variety of data for conducting research, completing writing assignments, preparing for debates, creating presentations and more.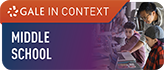 Research in Context
Designed especially for middle schoolers, Research in Context contains engaging reference, periodical, and multimedia content that are aligned with national and state standards.
Scribner Writers Online
Scribner Writers Series includes 15-20 page signed essays on more than 2,000 authors and literary genres drawn from the acclaimed Scribner print series.
Student Resources In Context
This next-generation portal reaches out to today's learners with a Web-like user experience, which intuitively conveys needed information on all core subjects from Science to Literature to History. From the eye-catching, media-rich homepage to the fast navigation options, Student Resources in Context helps students develop both research and critical-thinking skills while covering the spectrum of student-focused subject matter.
Twayne's Authors Online
The Twayne Authors Series – Comprises 600 full-text titles from the Twayne Literary Masters series, 200 each from Twayne World, US, and English Authors.