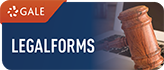 Legal forms
(Gale)
Access a wide selection of state-specific (and multi-state) legal forms and resources across the most popular legal areas.
---
Gale LegalForms offers a wide selection of essential state-specific (and multi-state) legal forms that may be customized for the most common legal procedures. These forms are used by attorneys and law firms. Includes real estate contracts, wills, premarital agreements, bankruptcy, divorce, landlord tenant, and many others.
Many forms are ideal for supporting legal tasks relevant to business owners, such as filing for copyrights, patents and trademarks, articles of incorporation, licenses, and more.
FORMS & MORE Access a vast collection of official documents, including litigation forms, court samples, checklists, sample letters, and more.
LEGAL TOOLS Support your form use with Legal Definitions, a Law Digest, and Legal Q&A to build your understanding of key areas of law
SEARCH & BROWSE Search for a specific form or topic or click to browse major categories and sample searches.