ACCESS
Middle School Students:
From homework resources and educational programs to recreational reading, the Library offers many in-house and online services for Middle School students. Visit this page to learn more.
Apply online to receive a Library Card Number that you can use immediately to access our eCollection and public computers. This card number is good for 2 years. Visit any Memphis Public Library with your documentation requirements listed below to check out physical items. (Customers age 13 and up are invited to apply online.) If you are an educator, ask about an Educator account when you visit the Library. It allows you to check out 50 physical items instead of 25!
Visit our Start Here page for more details on obtaining a Library Card.
---
Our OverDrive service offers many middle school students including:
You can check out five titles at a time per library card. Titles automatically return after 21 days or you can return them early.
Visit our OverDrive or use the Libby app if you are using a smart device/tablet. Visit our eCollection page for more details.
Educators:
Reading Level: Results can be filtered by Interest Level, ATOS Level, Lexile Measure, or Text Difficulty.
Simultaneous Use: Most titles have a limited number of copies that can be checked out at one time. These Simultaneous Use copies can be checked out to an unlimited number of people at one time. Click HERE for Juvenile and Young Adult Simultaneous Use titles.
---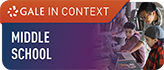 Gale In Context: Middle School combines the best of Gale's reference content with age-appropriate videos, newspapers, magazines, primary sources, and much more. Students will find outstanding support to complete assignments in core subjects including literature, science, social studies, and history.
Educators: Click HERE to see how Middle School (Gale in Context) can be used within Lesson Plans, Scavenger Hunts, and Projects.
---
Gale OneFile: High School Edition provides access to age-appropriate, authoritative digital content for middle- and high-school students to use for classroom assignments. Learners can research magazines, journals, newspapers, and reference books covering a range of subjects—from science, history, and literature to political science, sports, and environmental studies.
---
World Book eBooks provides a robust library of titles to suit every need. From basic board books to the most famous classic novels, the easy-to-navigate shelves of eBooks hold exactly what every student needs to round out their learning. These eBooks do not require checking out and they are always available.
Educators: Click HERE to access a number of helpful resources including how-tos, videos, a list activities built around World Book eBooks, and complete title list with direct links to individual eBooks.
---
World Book Student is aimed at upper elementary and middle school levels. It includes all the articles from the print versions of the World Book Encyclopedia, plus thousands of additional articles, learning resources, and research tools.
Educators: Click "For Educators" at the bottom of the screen and then select "Educator Tools" for Curriculum Correlations, Lesson Plans, and Webquests.
---
---
Visit our Teen Reading List page HERE for all sorts of award winners and recent additions. Each list includes links to our Catalog so you can check availability and place holds.
---
Knowing what to read next can always be a challenge. Our Teen librarians produce a monthly newsletter with book suggestions for teens. View the most recent edition HERE and sign up to receive emails:
---
You can also check out our list of other free resources here.
---